So I have been busy working on different projects. Here are a few things I am working on.
Here is a pineapple scarf that I made. It was designed by Sarah. She has subbmitted it for publication in the 2008 Crochet a day calander. Good Luck Sarah. Its a beauty. You can find out more about Sarah and see more of her beautiful wok by going to here blog.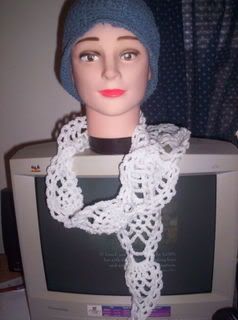 Here is a picture of scarf and hat set I made.( I know the hat was in the other picture too. LOL)
This scarf pattern I found a Christina's site. You can find more of her great designs by going to her site. She has a lot of great patterns to offer there.
Next is my use up my stash of scrap yarns. (Remember my post Organize this! LOL! Gotta use up some of that yarn somehow.) This is my Stripey Afghan. You can make your own stash bustng Stripey afghan by using her pattern here . It is a pretty easy pattern to follow ad so much fun using all of the different colors.
And lastly here is my Snowflake afghan I am still working on. It is cming along. I now have 5 rows completed. Only 4 more row to go on this one. I allready have enough snowflaes done to do the next row. This one is sooo muh fun to make. I am going to make another one with a red background. This one is done in Dark Sage and white.
I hope that you had fun seeing all the different projects I am working on.