Yeah!!! I received a puffy from "Eddy" today. (My secret pal at the Ville) She sent me an awsome package today! Thank you !!! She sent me 4 squares to add to my Ville afghan. So I now have a total of 6 squares for it. :) Although you can't tell in the picture the squares are gorgous.
She also sent me some super cute slippers. These are great for our cooler evenings. We are having right now. I just have to keep them away from Kyra. :) She may take them and claim them as hers.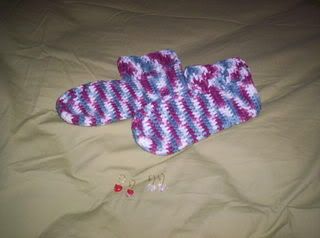 And she also sent me the cutest stitch markers. I love them. They are the cutest little red and white hearts. They even came in there own little bag to keep them safe when not in use.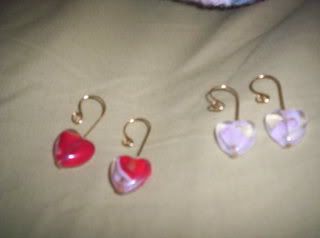 I have been very blessed with such a kind and caring Sp. She has been so nice. I just love getting the emails and cards from her everyday. It sure has made this exchange a lot of fun. Thank you "Eddy".