Ok so last week in was in the upper 80's. And now, it is only in the low 50's. That is just plain crazy. It's no wonder I am getting so sick. The chickens are still laying like crazy. We collected a dozen eggs yesterday.
I received my new hook in the mail yesterday. It is a wooden hook, size F. It is by Vermont Woodwork. You can find more of his hooks
here
. Here is a picture of my new hook.
I am still plugging away on my wavy round ripple. It does comes out with a lot of wave to it. I have to press done and smooth it out for the pictures.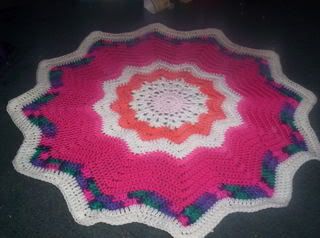 Oh, and check this out. Here is my magic ball. I think I will make a little tote bag with it later. I want to add some more odds and ends first.