Wow! It has been awhile since I have posted here. Been busy doing other things and posting on my 360 blog.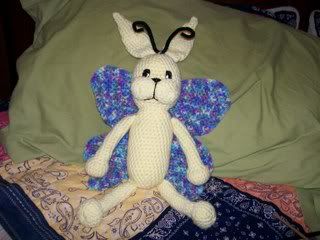 I made a second Bunnerfly. This one is yellow. These guys are sooo much fun to make.:)
I have also picked up my Butterfly afghan again. I started this one a long time ago. I sat it down and forgot about it. I now finally have 8 out of 12 squares done. I also have the first row put together. It is coming along nicly.