That is my view everymorning. Its been fun watching the color come in. This picture was taken yesterday, before it got cold. It started out pretty nice here, but as the day moved on, the heat went out. We dropped down into the 30's last night, and they predicted snow. WHAT!! Snow in Oct in NC?? Now we didn't get any snow down here in the Piedmont. They were talking snow up in the mountains. Even in the mountains this is too early for snow. But all the ski fans are excited. :)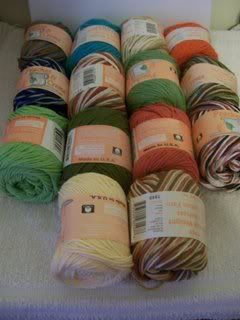 I received a new order of Peaches and Cream cotton yesterday. So I will be making many more dishcloths, and pouches. The picture above shows the different colors that I received. That is not all that I bought though. I have duplicates of all of those. :)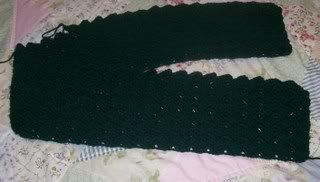 Uh Oh!! I started a new afghan.(Joansie, I am running and hiding now. I really have lost count as to how many projects I am working on) I figure now that it is getting colder it was time to work on another one. Right now I am using the green from
Jareds Ripple
that I finished. I should have enough of this color to do about 1/3rd of the afghan. So I need to figure out a couple more colors to add to it.
I am using the box stitch to make this one. Thanks to seeing the pretty afghan that
Tara
had made over at
Faith Acre Farm
. I just had to make one.
I will be posting some new pictures of the slippers I am working on soon. :) I don't have a currant picture right now. But they will be done soon. I just need to finish up 2 more of my large bath and shower puffs first. :)
Have a great day all! Hope not everyone is freezing like we are in NC.