I have been busy again. I worked up a couple of Gumdops for Diane of Stormy's Crochet. These little guys are so cute and easy to make. I had a lot of fun. Here is the mouse and pig.
Ihave also startd another Round ripple afghan. This one I am making with my new Graydog crohet hook. The hook was a gift from my Secret Buddy at C'ville. I am also using yarn that she sent me for this ripple afghan.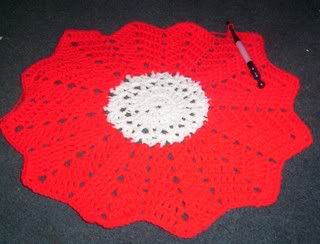 I am also working on some other projects, but they are a secret. I don't want to give myself away.