It has been raining here since Monday. It has been wonderful looking at the coudy grey skies and listening to the rain fall. One of the river basins(Where most people get there water from) here is at 34% and is normally around 77% this time of year. So it was getting pretty bad. In our area we were done 25 inches of rain. Over the last week we have gained back around 4 inches I belive.
Our outdoor kittens have gained another. I think the third one just got lost from the other two. He looks to be the same age as the other two. Although he is extremly skinny. He was sure happy to have some food this afternoon when we found him. They are all very friendly kittens.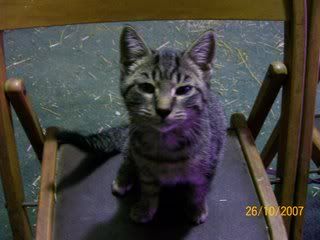 Jonah
Daniel
Luke
Here are a couple pictures of the leaves on one of our trees. This one is on the front half of our place.
These are the trees outback. Sorry about my clothsline in the picture. There isn't two much color out there yet, but it won't be long now.
Remember the Fall colored Round Ripple?? It is finished!! Yay!!! Here is a couple of pictures of the finished afghan. This one measures at 69 inches from point to point. I made it witha size K hook this time. For those wondering. This is Aggie Mays pattern. You can find her at Crochetville. It is an easy pattern to work up.