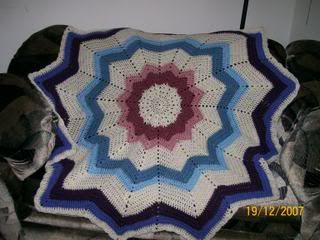 Yay! I made it! I finished this afghan in time for Christmas. This one will be a gift for my husbands Aunt. I didn't really know what colors she likes or dislikes. I only knew that she like the Flowers called Hydrangea. So I did a search on those flowers. and picked out some colors from there. Hopefully she will like this with all the different colors in it. :)
We only have a few more days untill Christmas. I hope that everyone is ready. :) I still have some more shopping to do. I just need to pick up a few more gifts. I also need to grab some apples,oranges and grapefruits to put in the kids stockings. Something good to go a long with all the candy they will be getting.


Have a wonderful day everyone!!!