Softball--- So far it has been a fun season. Kyra is doing really well with it. She has learned a lot from her coaches this year. Her team is leading the league for there agegroup. :) They are curreantly 7W-2L :) We bought Kyra some new gear after the Boger City game. She got nailed in the foot with a ball again. That one left its mark.The Red helmet is new. :) (Seen in the photo) LAst nights game ended with Kyra getting hit once again. Although this time she handeled it far better than the first two times. It was kind of funny that a minute or two after she got hit she said "ow". Then ran out with a big grin and yelled, "thats 3 times this season". This time it didn't leave a bruise.
After the srimmage last Saturday we went for another walk. It was a little bit harder to get through the woods this time. The growth back there has been amazing. It is still beautiful back there though. We love walking by the creek.
Heading in
Heading down the tree to the dried out portion of the creek.
Checking out the blue tailed lizard. (Sorry you can't see it, that thing was small and fast)
A couple of interesting trees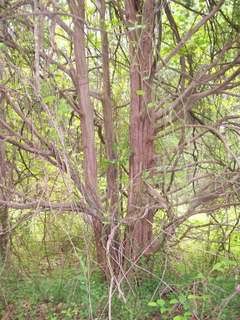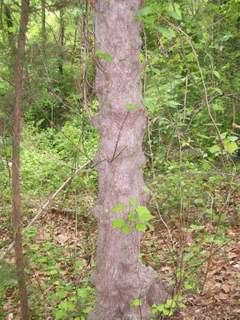 Miniture falls here, unfortunatly a tree fell and has blocked it off some.