Finally after 10 + days, we are starting to cool down. Todays forcasted high is only 85. Yay! What a relief from those high 90s and low 100s. We can actully go outside and do yard work comfortably.
Here is another afghan I have picked up to work on. It is working out really nice. This picture was taken a few days ago, and it is actully larger now. :)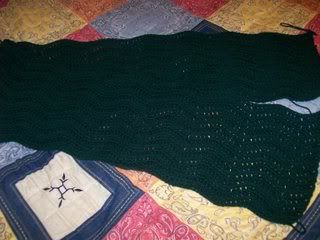 Here is a newer picture of Jareds Ripple. The picture is a little bit dark so it dosn't show up that great.