Wow! It is sooooo hard to believe that this year Eric will be a Senior in high school. It is so hard to see that he is all grown up and I keep pictring him as this little tiny baby that was born almost 18 years ago. Where has the time gone? I don't think that it has fully hit me yet that he will be graduating this year. And that he will be heading off to collage soon.
I sure had a wake up call this morning about it though. We went to have his Senoir pictures done.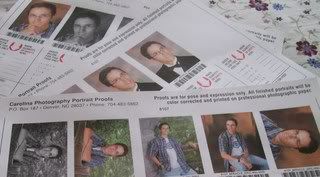 After taking him to get his pictures done we figured out when everyone else graduates. Sean will graduate in 2013 and Kyra in 2015. Wow! It just goes by so fast. Time seems to slip through your fingers faster than you can blink your eye.
So we plan to enjoy this last year of high school while we can. There are sooo many different things happening this year. Senoir trips, pictures...........