Ok, so I thought fall had arrived. But for the last few days it has been in the 80's. I had allready cut the Air off and really didn't want to turn it back on. So we got a little warm during the day. But atleast it has been nice and cool in the evenings.
Above it the tree right in front of my house. It has really started to turn. The trees in the driveway havn't changed yet. I will post new pictures when they start too.
We have some rain coming in tonight and then it is supposed to cool down again. Yay! I love the 70's(weather).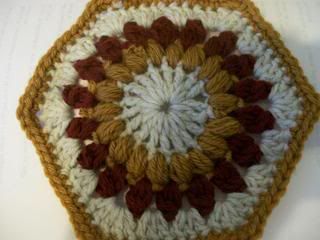 Amy decided on the colors for her new slippers. Above you can see her choice. Thank you to everyone who left there comments and voted on them. :) I am making them with Lion Brand Yarns. The Colors are Heather White Burgandy and Honey.