That is what our local weatherman has called it. I just call it sticky mess. You know the type of weather that just makes your hair curl. Bad hair day here we come. LOL! Atleast we have a nice little breeze out there. There are some storms heading our way later this afternoon.
I went for a short walk this morning. Our driveway/road to the street is a 1/4 of a mile. So it is pretty easy to walk atleast a 1/2 mile everyday just to get the mail. :) On my way to the mailbox today, I spotted some beautiful flowers. So I just had to take pictures.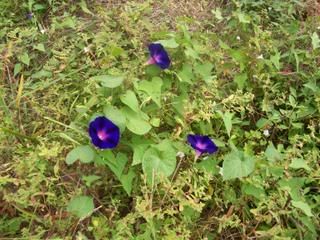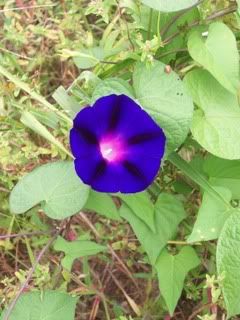 Not sure what they are, maybe Morning Glory's?
And here are some pictures of our road/driveway.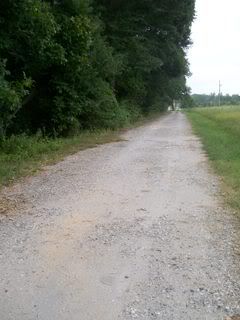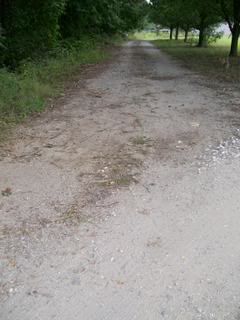 This part is our actual driveway. You can't see our vehicle, because you have too turn to the right at the end. We have trees lined up on both sides of our driveway. In the fall it is beautiful with all the colors. I can't wait to get some new photos then. :)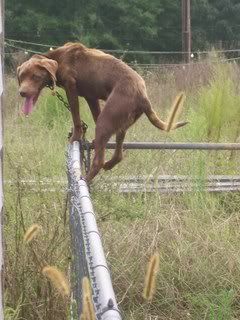 Here is our Excape Artist Levi. He is a Lab/pointer mix. He is actully quite smart. He has a nice large fenced in yard to play in. BUT!!!! He won't stay in it. He climbs/jumps the fence and trys to bug everyone and everything within a one mile radious. LOL! He LOVES to chase the goats and chickens around. (The fence is 5 feet high)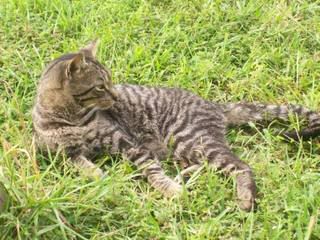 And here is Jonah. He is our outdoor kitty. He was enjoying the little bit of sun that we had earlier this morning.