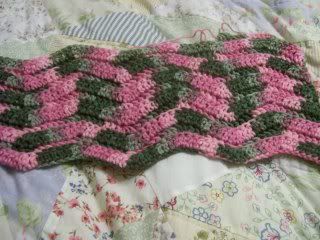 This is the Pink Camo Afghan that I am working on. I am using Bernat Camouflage yarn in the color Pink Rose. I am hoping to make this one a good size for a Tween girl.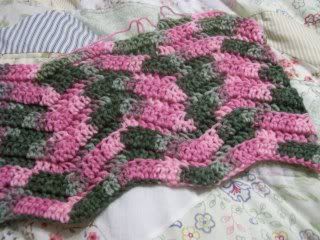 Oh No! Joansie, I knew you would see this. Yes, I started another project. I don't think I will ever learn. I always find so many different things that I want to make. There must be a 12 step program out there somewhere. :)
Here is a closer view of it. I am using a simple ripple pattern for this one. To get the ridges I am working in the back stitches only.
Since my husband is on the road for the weekend, I am hoping to get a lot of work done on this afghan.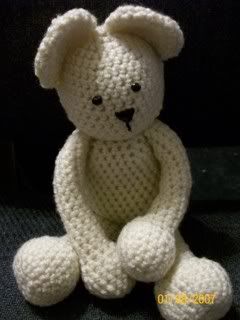 This is a picture of one of the first bears that I made. I brought this one back since I have been getting questions about my bears. :) The pattern is an original design by
Kristie
. You can find her on
Etsy
. She is still offering the pattern for sale.
If you can't crochet and would like one made for you, you; you can find one in my
shop
.