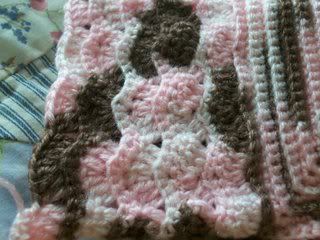 Here is a closer view of the sleeve. I havn't worked on this one at all today. But I did have a request for a closer view. :)
Here is the start of a new Creature. This one will be very colorful. I am using a color called Pogo.
I will post more pictures of this one later.
And finally here is another Lacy Scarf. This one is about halfway done now. I am using Bernat Kashmere in medium blue for this one.
I have a few other projects that I am working on, but no pictures of them right now. I am still working on
Jareds ripple
, and a new round ripple. I am trying to use up some more of my scraps on the round ripple I am doing. I will post pictures of both of those later.