I am still working on the baby sweater. I have the first sleeve halfwaty done. This pattern that I have been using has been pretty easy to follow. For those that crochet and may be interested I found it on Ebay. It is an original
design
by
Rebecca Leigh
Here is a closer view showing the sleeve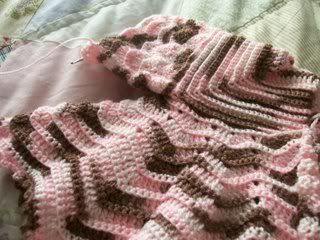 We only have a few more days before school starts here. The kids go back on the 25th. They are looking forward to the start of the year. They have been really bored the last couple of weeks of summer. We have allready bought new school cloths and most of the basic supplies. I know when school actully starts I will still have more things to buy for them. It happens every year, even when they give you a list at the end of the year. They always find more things.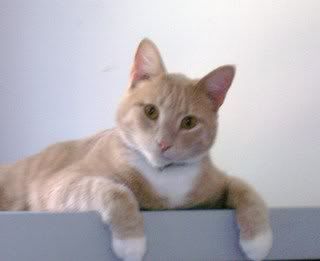 This is Mr Sid. He is such a ham. We adopted him from my SIL. She had several cats and Sid was stressing them all out. He loves to play, and chases our Lucky all over the house.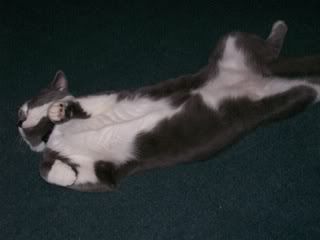 And yes, Mr Lucky is always laying around the house like that. Hes a very sweet cat. We found him a little over a year ago. The kids were doing a car wash for our youth group and saw him running around. He was just a little baby. He was really dirty and looked like he was more of a grey brown color when we first saw him. Now he is a pretty grey and white.